Whitney and I had a shopping spree day! The two of us had never hung out one-on-one before, and both wanted to get to know each other better. It was a very successful day, both for the shopping and the bonding.
I picked up Whitney at about 2pm and we headed for Murray to the new Home Goods store.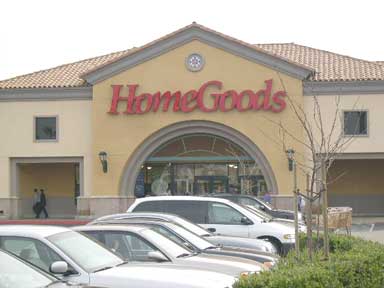 Home goods is awesome! The feel of it is a lot like Gardner Village-ish, a lot of really home-made type things and personal touches. I really liked a lot of things there! Also, there were really great prices on a lot of stuff! Whitney bought a napkin holder. After Home Goods we drove to the nearby D.I. to look around. The D.I. in Murray/Draper is AMAZING!! The Provo one is so picked over, but this one was full of great stuff! I found a napkin holder, a candle holder, and a Halloween decoration that I bought, along with some AMAZING thrift items that I was sorely tempted to buy to give out to people for Christmas. Whitney and I decided that we should have "Thrift Store Christmas" where each family member has a tiny budget to buy something hilarious. Besides all of the funny items we found, there actually were a ton of great things to buy. Whitney found some cute Christmas decorations! We ended up wandering around D.I. for a pretty long time, but when we'd made our purchases we headed off to IKEA!
Ikea is a magical place. Unfortunately, it was getting pretty late by now and Whitney and I were both super hungry. After going through most of the display rooms at IKEA, we took a break to go get pizza at the nearby NYPD Pizza place. It was pretty good, but not truly authentic NY pizza. Nice try guys!
After our yummy dinner we rushed back to IKEA to finish our browsing, and we both found some great deals! I bought a shelf and an egg timer, and Whitney found an area rug for only $20.00!! She also got an end table to use as a nightstand for Richey! IKEA has stuff for waaaayyyy cheap, and wandering around the displays gives you awesome ideas for your own house!
We had a great time and fortunately didn't get bored of each other! We chatted the whole time!
By the time we got back to Provo with our purchases it was around 9:30 pm. We had been hanging out for like 8 hours. 9:30 really isn't late for a Friday night though, and since Steven had his friend Kyle over, Whitney and I decided to keep hanging out! I helped her drop off and assemble her purchases at her apartment, and then we made a Walmart run to get screws to install the new shelf at my place. By the time I dropped her off it was about 12:30. haha. Awesome.
I had such a great time hanging out with Whitney. We've never had that bonding time at other family events and really didn't know each other that well. During the day we both admitted having felt apprehensive, like maybe we wouldn't get along or something, but happily we both totally hit it off! New friends! I couldn't stop telling Steven about it for the rest of the weekend. :) :) :) I'm so glad that Whitney lives so close. Let's hang out again soon!